SPRING 2014 GRANT AWARDS
In the Spring of 2014, the Aggie Green Fund Advisory Board awarded the following projects.
Updating Irrigation Systems for Water Conservation - $23,500
This project is focused on installing a new irrigation control system and improving the sprinkler heads in order to conserve water and more efficiently irrigate the George H.W. Bush Library area of campus. The ultimate goal is to increase water efficiency and savings campus wide using the George H.W. Bush Library as a test site. Resident Regional Director for SCC Service Solutions, Don Crawford, is serving as an advisor for the project. The overall target is to decrease water usage at the George H.W. Bush Library by 30 to 40%.
Exterior Recycling Bins – Big Belly Kiosks - $77,000
The goal of the project is to increase the visibility and opportunities of recycling to the students, staff, faculty, and public at Texas A&M. It will be an enhancement to an already successful and growing recycling and sustainability effort. Texas A&M University's Utilities & Energy Services (UES) in conjunction with SCC Service Solutions would like to purchase twelve three-stream recycling bins to be placed outdoors in high use areas on Main and West Campus. SCC Service Solutions will collect the waste and recyclable materials and deliver them to be appropriately processed.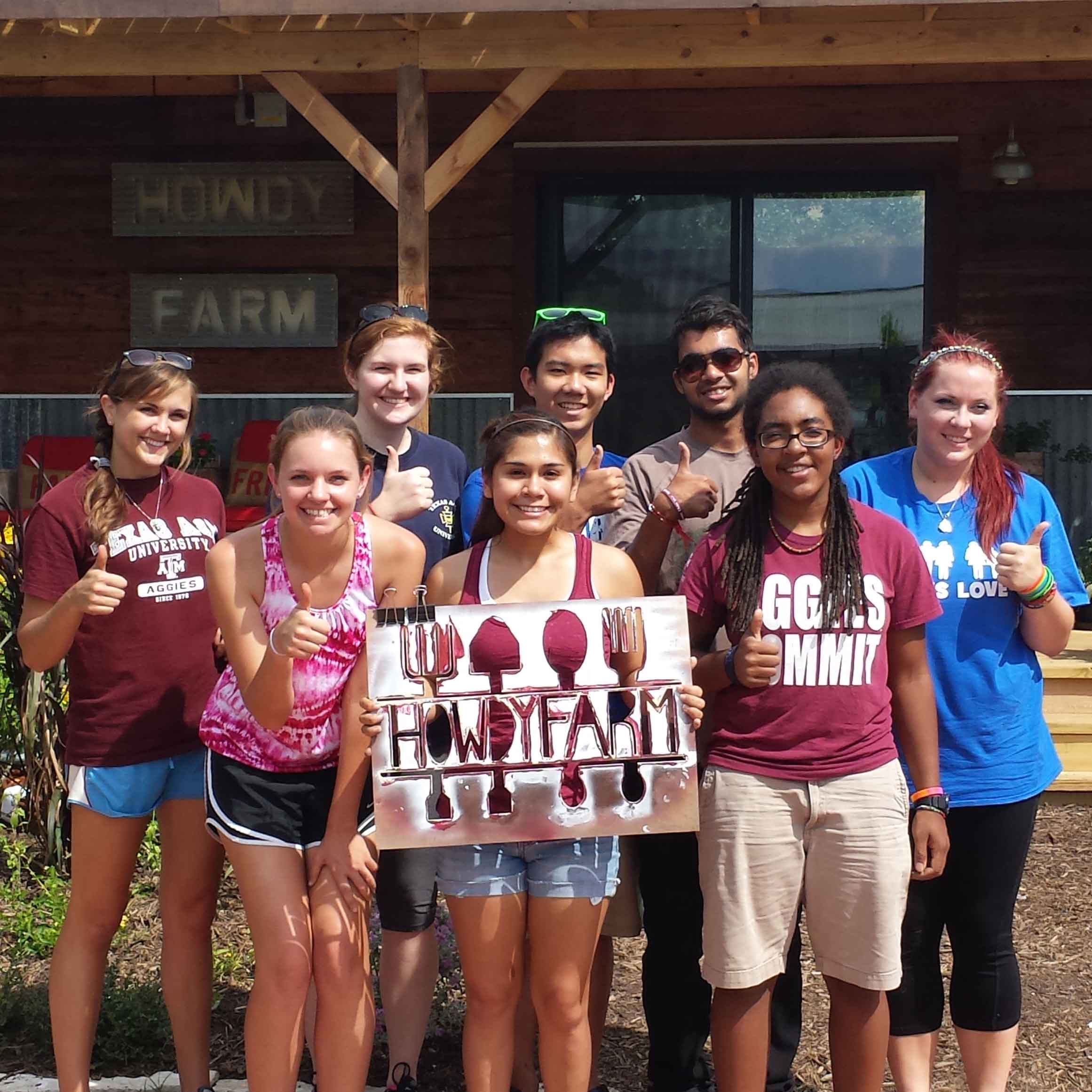 Howdy! Farm Volunteer Coordinator Pilot Project - $9,880
The Howdy! Farm relies on its solid volunteer program to spread its message of sustainability to interested students. Having designated volunteer hours sometimes makes it difficult for the farm manager or student leaders to be present for all hours. The goal of this project is to explore the benefit and effectiveness of having a volunteer coordinator position at the farm. The coordinator would be available at the farm during all volunteer hours to ensure that students are met by a knowledgeable farm worker who can guide and teach them. The volunteer coordinator will also work to increase awareness through public outreach and workshops; the overall goal being increased awareness and participation of students and community members.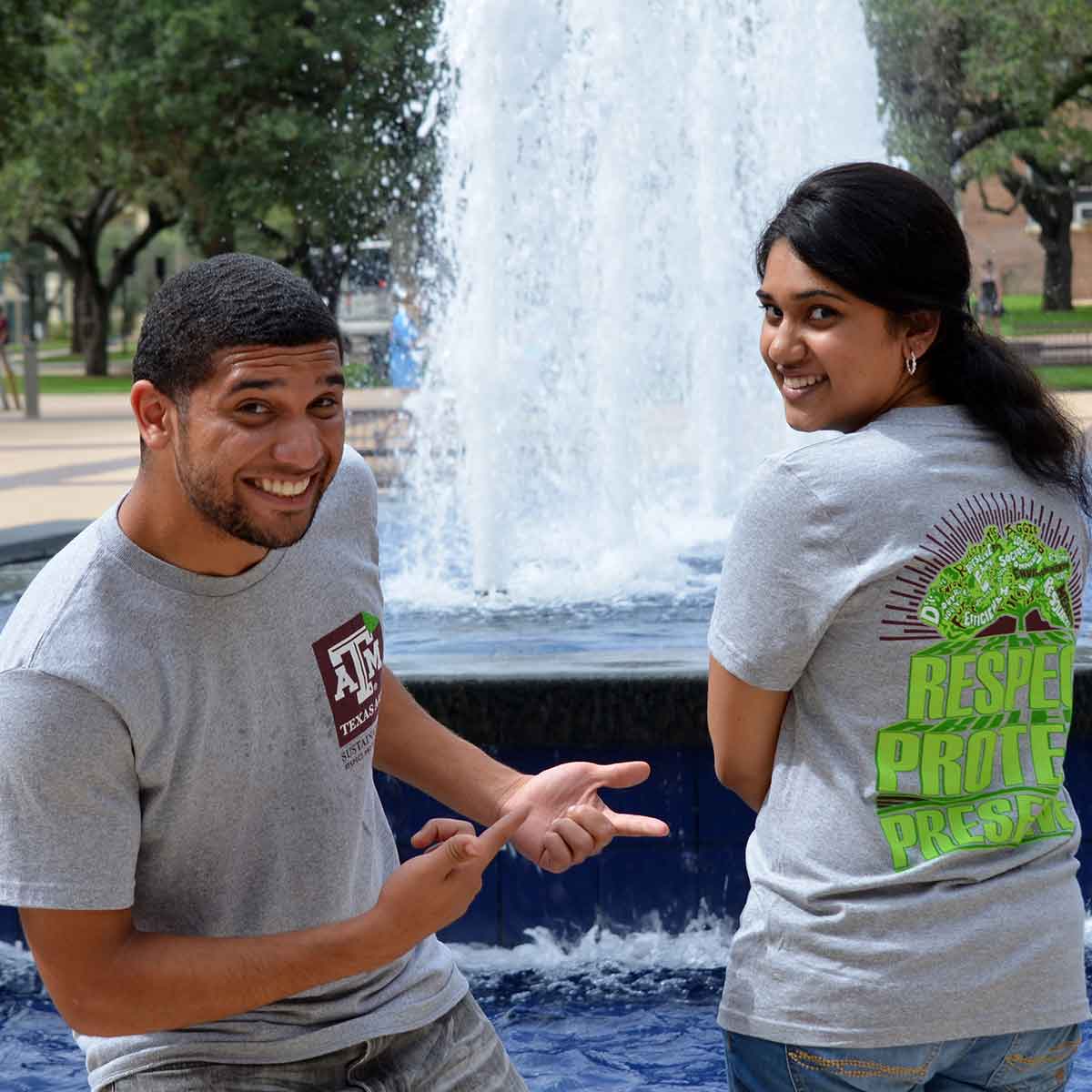 Part-Time Funding for Office of Sustainability – $27,000
Through the employment of three part-time paid intern positions in the Office of Sustainability, the office plans to continue its 6 year legacy of campus engagement in environmental programming and improvement. The three positions are one marketing intern and two outreach specialist team leaders. The marketing intern will primarily work on implementing the Sustainability Marketing Plan. The two outreach team leaders will serve as guides to interns earning course credit. Paid positions allow for multiple semester employment, something limited by internship for course credit. This longer term of employment allows for the office to work more cohesively on longer term projects.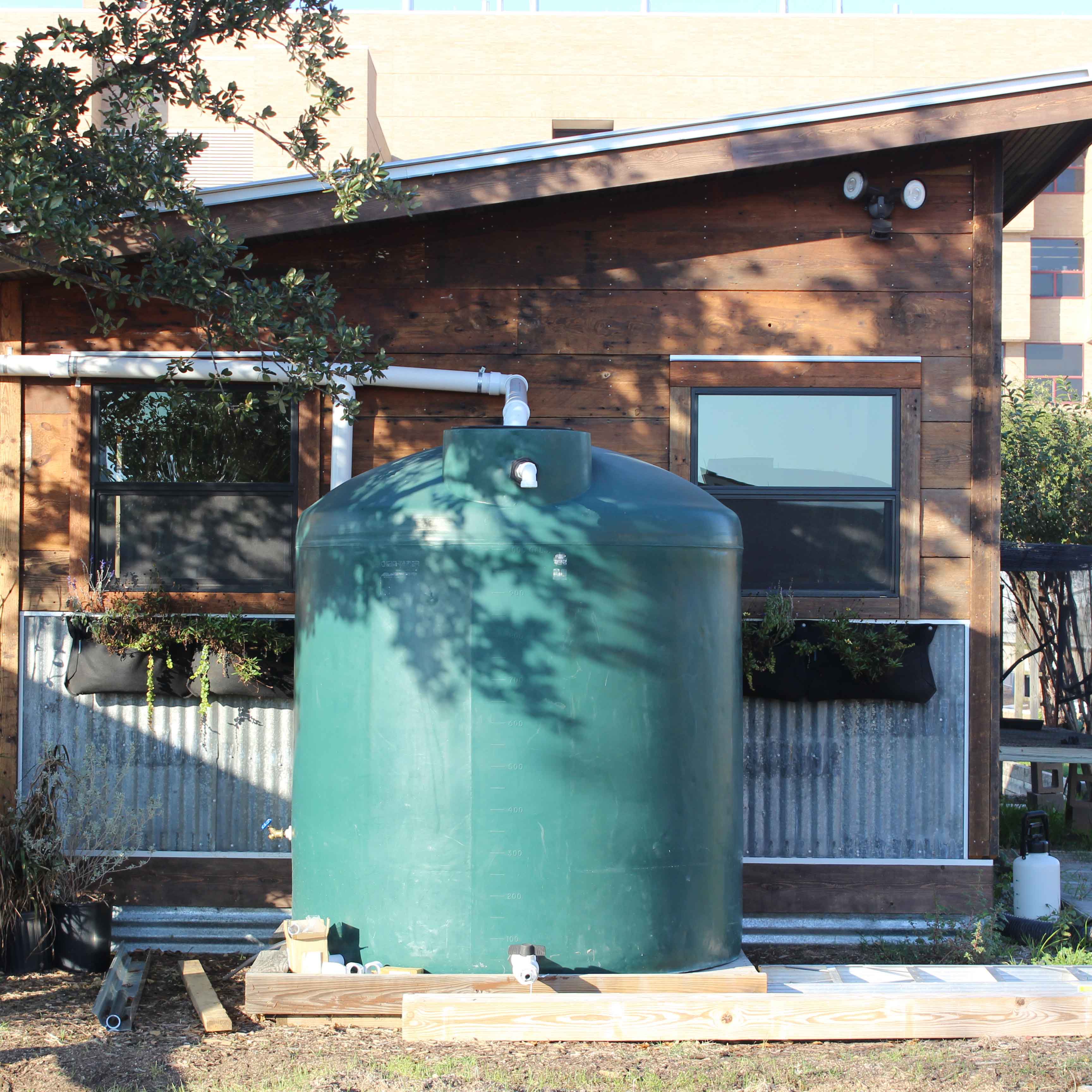 Enhancing Sustainability Scope at Howdy! Farm - $12,163
The student run, student lead Howdy! Farm initiative is a cross disciplinary, sustainable agriculture farm; through this grant, the farm plans on purchasing tools to enhance its social, financial, and environmental sustainability. The planned equipment purchase includes a tractor and implements, cover crop seeds, tools set and wheelbarrows, a rainwater harvesting system, and a draped table cloth. With these new tools and equipment, the Howdy! Farm will be able to increase crop production while increasing its sustainability and the farm's aesthetic appeal. The Howdy! Farm is under the management of the Sustainable Agriculture Student Association and the Horticulture Department at Texas A&M.
Water Bottle Filling Stations – $3,400
The water fountain on the 7th floor of Harrington Tower will be replaced with one that includes a water bottle filling station. The purpose of this project is to not only help meet the demand for filtered water from persons in the building, but also to reduce the number of empty water bottles in the trash and recycle bins. The goal would be that students, faculty, and staff would bring refillable water bottles and use the water bottle filling station instead of purchasing bottled water. The station could serve multiple floors in the building, most likely 5-8th floors. Graduate students and faculty are regularly on these floors every weekday and many weekends.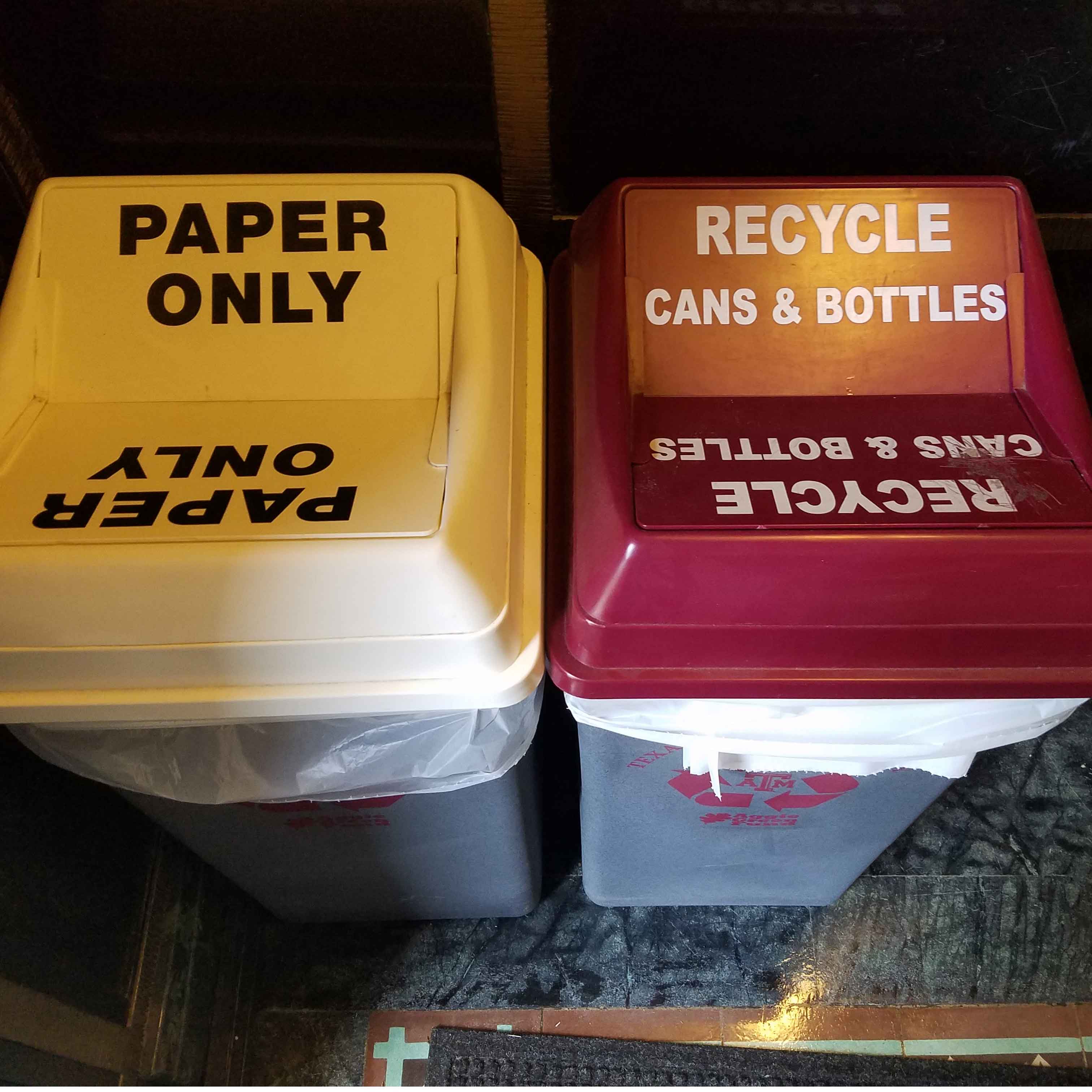 Complete Quad System Recycling for Chemistry Building – $11,000
Currently, recycling in the chemistry department is limited by a select number of receptacles. With this grant, additional receptacles will be purchased. The plan is to install a color-coded system for recycling in the Chemistry, Reed McDonald (3rd and 4th floor), and Heldenfelds buildings. Each new recycling container will have either a maroon lid to indicate recycling cans/bottles or a white lid for paper products. This project will facilitate higher recycling rates due to increased visibility and convenience of recycling containers. Potentially, this project can increase recycling for sustainability initiatives, decrease trash cans and trash pick-ups, and reduce waste being sent to local landfills.
Dyson Airblade V Hand Dryers – $35,080
The Office of Sustainability seeks to mitigate the problem of excessive restroom waste by providing a hygienic, energy efficient, and cost-effective form of hand drying. The goal of this project is to offer the least resource intensive form of hand drying available, starting with a pilot program in Evans library. The initial installation of 18 hand dryers will include Step n Pulls to open doors by foot, eliminating the need for a paper towel, and floor mats to absorb water that might drip, preventing slips. The project will necessitate participation from SCC Service Solutions and Evans Library building managers.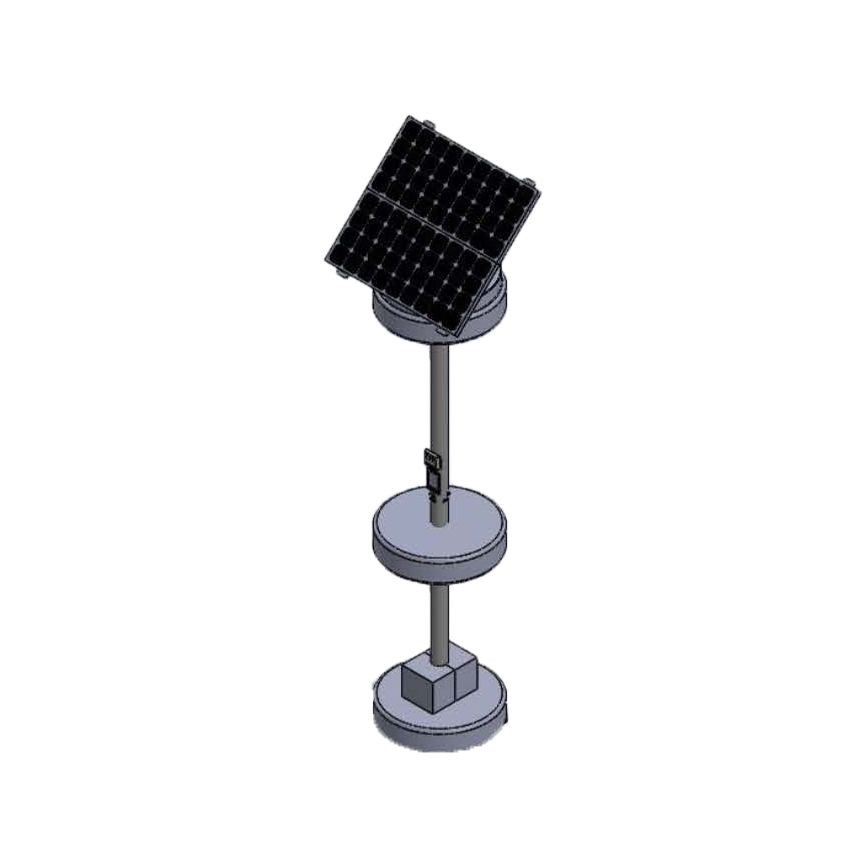 Aggie Mini Power Stations (AMPS) - $34,450
As Industry Mentors for TAMU, we are working to prepare students for the engineering work environment. Students receive an excellent education in the basics of the engineering discipline through their coursework. We are creating an opportunity for students to learn how to use these skills through hands-on development of practical projects. The Aggie Mini-Power Station (AMPS) is an isolated station, which supplies power from solar energy to support students' electronics without drawing power from other TAMU facilities. Development of these AMPS by our students will provide experiential knowledge in the development of the project as well as pride in supporting their university.